HighQuality Glossy silver foil stickers Wholesale
Glossy silver foil stickers
Shenzhen Ridongsheng Printing Co., Ltd. HighQuality Glossy silver foil stickers Wholesale-Shenzhen Ridongsheng Printing Co., Ltd.,Good after-sales service, 24 hours customer service online
SEND INQUIRY NOW
CONTACT US
Telephone:
+0755-88364832
WhatsApp:
13714281909
The design of Shenzhen Ridongsheng Printing Co., Ltd. takes several factors into consideration. Its electric parts are developed based on the knowledge of temperature field, electromagnetic field, and flow field.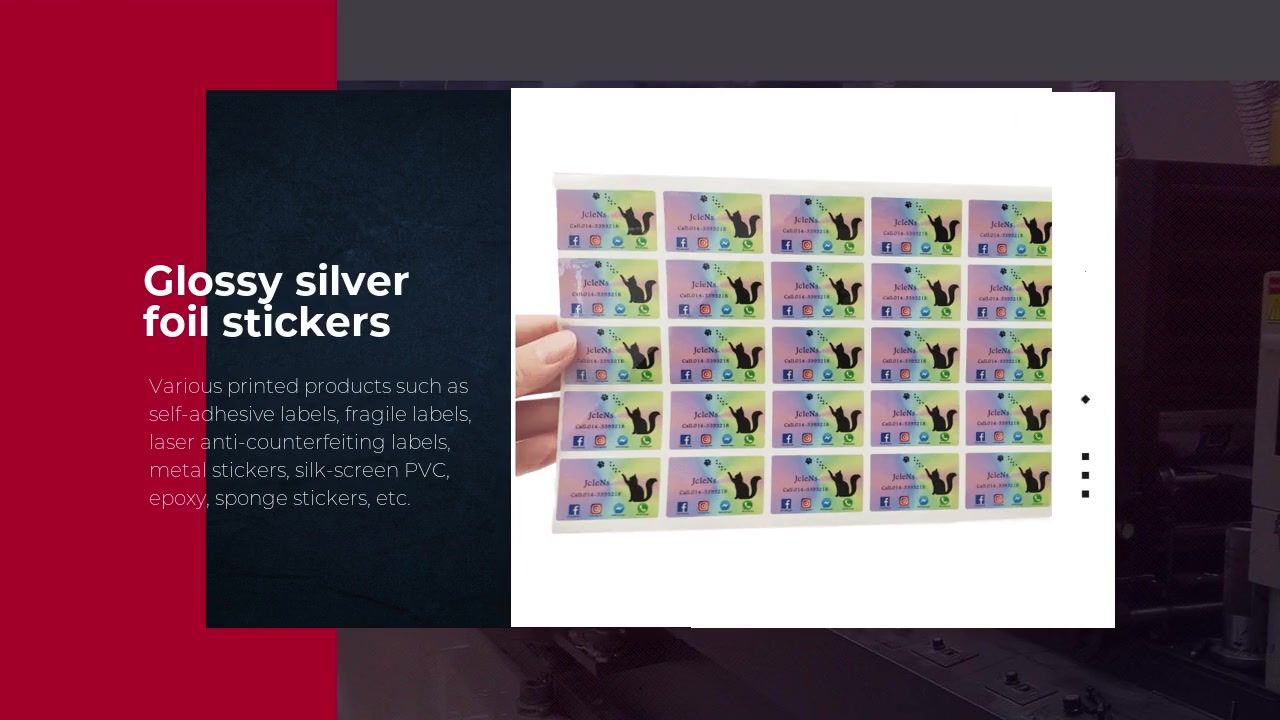 FAQ
1.Do you accept OEM or ODM order?
Yes, we accept both OEM and ODM for customers.
2.How dose your factory do regarding quality control?
Quality is priority. We always attach great importance to quality control from the very beginning to the end: 1) All raw material we used are non-toxic, environmental-friendly; 2) Skillful workers pay great attention to each details in handing the producing and packing processes; 3) We have a professional QA/QC team to ensure the quality.
3.How can we get a quote?
Please provide the specific details of the product you need, such as material, size, quantity and other requirements for the sticker.
Advantages
1.Good after-sales service, 24 hours customer service online
2.Quick quotation and proofing, short production cycle and fast shipment
3.15 years of self-adhesive experience, one-stop service
4.The management and design team is perfect, and the product quality is guaranteed
About Shenzhen Ridongsheng Printing Co., Ltd.
Shenzhen Ridongsheng Printing Co., Ltd. is a manufacturer specializing in the production and processing of various printed products such as self-adhesive labels, fragile labels, laser anti-counterfeiting labels, metal stickers, silk-screen PVC, epoxy, sponge stickers, etc. It is also a professional printing company integrating production and trade. The company has complete printing equipment and high-quality professional printing personnel. The company has a complete and scientific quality management system. The integrity, strength and product quality of Shenzhen Ridongsheng Printing Co., Ltd. are recognized. Friends from all walks of life are welcome to visit, guide and negotiate business.The company has started network marketing, and strives to create network services.
IF YOU HAVE MORE QUESTIONS,WRITE TO US
Just tell us your requirements, we can do more than you can imagine.
Copyright © 2022 Shenzhen Ridongsheng Printing Co., Ltd. - www.mxprinting.com All Rights Reserved.
Choose a different language
English
Current language:English